Matthew Andrews, DPM
Location > Chesterfield
Location > Specialty
Specialization > Podiatry
---
Qualification
Podiatry
Contact Info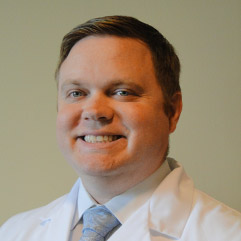 Location:
Alliance Chesterfield Location
30795 23 Mile Rd, Suite 207
Chesterfield Twp, MI 48047
About Me:
Dr. Andrews   became a physician because he enjoys finding creative solutions to complex problems.  His passions as a physician include wound care and joint replacement in the foot and ankle; he also has extensive experience in limb salvage.  Dr. Andrews is an Alliance Health "O.G." and has actually been with the company since before we grew into the Alliance Health we are today.
As a doctor, he would advise all of his patients to research their medical conditions, ask questions during your appointments, and be an informed consumer.  Healthcare is complicated, but understanding your own situation can help make things easier.
Outside of work, Dr. Andrews enjoys spending time with his wife (who is also a podiatrist), and their two children.  He is also a veteran of Operation Enduring Freedom and Iraqi Freedom.
Special Interests:
High risk limb care- diabetic and dysvascular lower extremities
Diabetic wound care
Charcot neuroarthropathy and correction of Charcot deformity
Pediatric and adult foot and lower leg deformity correction
Comprehensive podiatric surgery for correction of biomedical or trauma induced deformity
Use of orthogiologies and bioengineered tissue substitutes in wound healing and limb reconstruction
Total ankle arthroplasty – experienced with INBONE II, Prophecy, INBONE and Salto-Talaris.
Education:
US Army Drug Control and Substance Abuse Counselor, Des Moines, IA
Bachelor of Science in Mathematics, – Bachelor of Arts in Biochemistry, Undergraduate, University of Iowa, Iowa City, IA
Doctor of Podiatric Medicine, Rosalind Franklin University of Medicine, North Chicago, IL
Certifications:
FEMA Certified Incident Manager
BLS
Level 2 HAZMAT Emergency Responder Certification
Hospital Affiliation:
Henry Ford Macomb Hospital, Clinton Twp., MI
St. John Hospital, Detroit, MI
Societies & Memberships:
American Podiatric Medical Association
Michigan Podiatric medical Association
American College of Foot and Ankle Surgeons Resident Member
American College of Foot and Ankle Orthopedics and Medicine Resident Member
Veterans of Foreign Wars Lifetime Member